be serious stay sporty
gesponserter Beitrag – in cooperation with Edited
[qodef_tab icon_pack="font_awesome" fa_icon="" title="GERMAN"]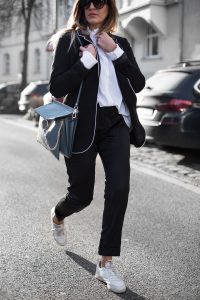 Was definitiv immer in meinem Schrank gefehlt hat, war ein Hosenanzug beziehungsweise was Business ähnliches, was ich auch mal zu einem seriösen Termin anziehen kann. 🙂
Ihr wisst ja, Kleidungs technisch bin ich normalerweise nicht so seriös unterwegs.
Daher durfte jetzt dieser toller Blazer, die wunderschöne Rüschen Bluse und eine Anzughose bei mir einziehen.
 
Da mir aber ein Hosenanzug schnell zu spießig und langweilig ist, habe ich diesen ganz einfach mit sportlichen Sneakern kombiniert, was meines Erachtens ganz toll funktioniert – ich altes Sneaker Girl 🙂
 
Meine Chloé Faye in meiner absoluten Traumfarbe gibt hier einen perfekten Farbkleks zu dem Look.
 
Btw. für alle die nach diesen Reebok Sneakern gefragt haben
SIE SIND BACK IN STOCK (in allen Größen).
Also schnell sein und hier entlang.
 
 

[/qodef_tab][qodef_tab icon_pack="font_awesome" fa_icon="" title="ENGLISH"]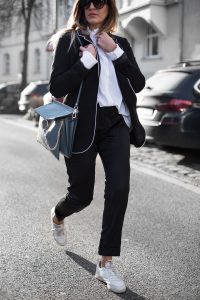 What definitely has always been missing in my closet is a pantsuit. Respectively something business like, which I actually can wear also for a serious meeting. 🙂
You already know, I´m not so serious when it comes to my style and clothes.
That is why this super blazer, the cute ruffle blouse and these dress pants went into my closet.
 
Since a pantsuit could get boring and stuffily really quick, I combined it with a pair of sporty sneakers, which in my opinon worked pretty well. 🙂
 
My Chloé Faye in my absolut dream color brings the perfect pop of color to the look.
 
Btw for all those who asked about these Reebok Sneakers.
THEY ARE BACK ON STOCK (in all sizes)
Be fast and get them here.
[/qodef_tab]