big sleeves
gesponserter Beitrag – in cooperation with Edited
[qodef_tab icon_pack="font_awesome" fa_icon="" title="GERMAN"]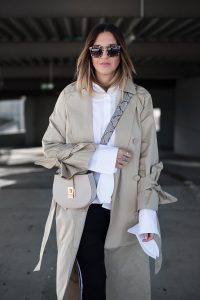 Ohhhh ich liebe diesen Look und euren Likes auf Instagram zu urteilen, ihr auch 🙂
Er ist genau mein Ding. Gemütlich, sportlich und viele spezielle Details, die den Look zu einem echten Hingucker machen.
 
Die Arm Details des super coolen oversize Trenchcoats und der übergroßen weißen Bluse sind einfach fantastisch. Vielleicht nicht gerade perfekt für ein Essens Date. 🙂
Beide Teile sind aus der neuen Kollektion von EDITED. I´m in love <3
 
Meine sportliche Adidas Pants bringt hier den gewissen sporty Touch und der neue Strap passt perfekt zu meiner Chloé, die ich nach langer Zeit somit mal wieder ausführe. 🙂
 
Ich bin gespannt auf euer Feedback.
 
 

[/qodef_tab][qodef_tab icon_pack="font_awesome" fa_icon="" title="ENGLISH"]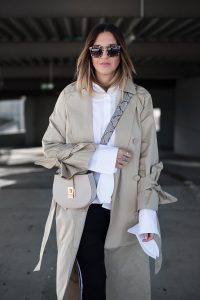 Ohhh I love this look and I see on Instagram all the likes, so I guess you also love this look. 🙂
It´s definitely my thing. Cozy, sporty and with the special details absolutely an eyecatcher.
 
The details on the sleeves of the super cool oversized trenchcoat and of the oversized white shirt are simply fantastic, but maybe not so perfect for a food date 🙂
Both pieces are from the new EDITED collection. I´m so in love <3
 
My sporty pair of Adidas pants bring the sporty touch to the look and the new strap matches perfectly my Choé, which I finally wear again since a long time. 🙂
 
I can´t wait for your feedback.
[/qodef_tab]