girlish red
gesponserter Beitrag – in cooperation with Edited
[qodef_tab icon_pack="font_awesome" fa_icon="" title="GERMAN"]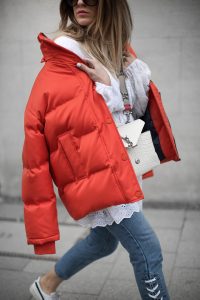 Rot – meine absolute Lieblingsfarbe, wenn es um auffällige Highlights geht. Dass ich aber jemals eine Jacke in dieser Signalfarbe besitzen werde, habe ich niemals gedacht.
Aber wie schön ist bitte diese Jacke und auch das Rot? So ein schöner Rotton. Da konnte ich dann doch nicht widerstehen.
 
Kombiniert habe ich die sportliche Jacke zu einem süßen weißen Kleidchen, welches ich über eine raffinierte Jeans trage.
Um die mädchenhaften Details von Jeans und dem Kleid zu brechen entschied ich mich für Sneaker, die zur sportlichen Bomber Jacke perfekt harmonieren.
 
Was sagt ihr zu meiner neuen Taschen Liebe? Ich hab sie beim Shoppen letzte Woche entdeckt und es war Liebe auf den ersten Blick. Momentan trage ich noch meinen Kate Cate Strap dazu, bin aber noch auf der Suche nach einer schönen blauen Variante. 🙂
 
Wie findet ihr den Look?
 
 

[/qodef_tab][qodef_tab icon_pack="font_awesome" fa_icon="" title="ENGLISH"]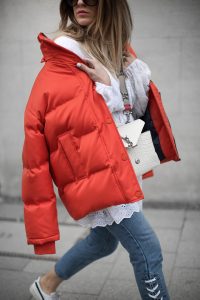 Red – my absolutely favorite color when it comes to hightlights. But I have never thought of ever having a jacket in this signal color. Please how beautiful is this jacket and the red. Such an amazing color. So that´s why I couldn´t resist. 🙂
 
I combined this sporty jacket with a cute white dress, which I was wearing over a fancy jeans.
To break the girlish details of the jeans and dress I decided to wear Sneaker, which match perfectly to my sporty bomber jacket.
 
What do you say to my new bag love? I saw it during shopping last week and it was love at the first sight. Currently I`m wearing my Kate Cate strap, but I´m already looking for a new blue option. 🙂
 
How do you like my look?
[/qodef_tab]